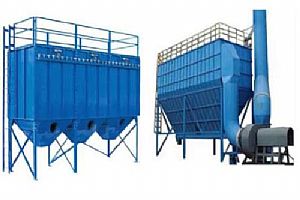 (1) Reduce the air leakage phenomenon of pulse bag filter
1, During the process of production and installation of pulse bag filter, it is necessary to strictly implement the JC / T532 welding standard for welding, to eliminate the phenomenon of less welding and missing welding of the dust collector.
2. The unloading port of the pulse bag filter should adopt the air lock device with good sealing performance. At present, it is mainly based on pneumatic or electric lock valves. When necessary, two-stage wind locks can be used.
The leakage rate of a pulse bag filter should be controlled within the ≤3% range.
(2) Strictly control the water spray volume of the humidification tower
When the cooling device of the cement dry-line kiln adopts a humidifying tower, the water-spraying amount cannot be increased after unilaterally pursuing the cooling effect, and the water spray volume of the humidifying tower must be strictly controlled under the condition that the inlet temperature of the pulse bag-type dust collector is ensured. . The humidifying tower uses high-quality spray guns as much as possible to make the sprayed water fine and uniform, and achieve the best cooling and quenching effect with the least amount of water.
(3) Stable flue gas temperature in a smaller range
When the temperature of the treated flue gas is too high, it is necessary to immediately reduce the operating temperature, cool air and other cooling measures; when the flue gas temperature is low, it is necessary to immediately increase the operating temperature and other warming measures so that the flue gas temperature can be stabilized in the prescribed range Inside, ensure the normal and stable operation of the dust collector and reduce condensation.
(4) Reducing the temperature difference and de-wetting of the pulsed gas and smoke inside the dust collector
Currently, the commonly used gas supply routes for compressed gas in China are: compressed air - gas storage tank - gas supply triple unit - air bag - pulse valve This gas supply has the advantages of low investment and simple equipment, but when the outside air temperature is over When it is low, the compressed gas is insufficiently treated and it is likely to cause condensation.