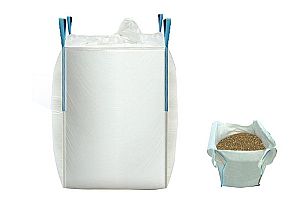 The ton bag is a kind of flexible transport packaging container. The use of tonnage bags is expanding, as are exports for special USES such as calcium carbide and minerals. Therefore, the ton bag product market demand potential is very big, the development prospect is very broad.
Matters needing attention in loading, unloading and transporting of ton bags:
1. Do not stand under the assembly bag during hoisting operation.
2. Please hang the hook on the central part of the sling or sling, without slanting, single-side or slanting.
3. Do not rub with other items in the homework, hook or collide with the collection bag.
4. Do not pull the sling back to the outside.
5. When using forklift, please do not make the fork touch or tie into the bag body to prevent puncturing the bag.
6. When handling in the workshop, use the tray as much as possible to avoid lifting the container bag with the hook.
7. Keep the collecting bag upright during loading, unloading and stacking.
8. Do not hold the collection bag upright.
9. Do not drag assembly bags on the ground or concrete.
10. If you have to keep it outdoors, the collection bag should be placed on the shelf and must be firmly covered with opaque awning cloth.
11. After use, pack the collection bag with paper or opaque awning cloth and store it in the ventilation area. Set the basis and principle of bagging design.
The design of the ton bag shall strictly comply with GB/ t10454-2000 national standard. As the export packaging, the tonnage bags should ensure that the export goods can effectively protect the loaded goods during loading, unloading, transportation and storage, and deliver the goods to the destination in a safe and sound manner. Therefore, the package design must meet four key points, namely safety, storage, use and sealing.